Monitor all the application activity
Monito records network requests, user interaction events, navigation, console logs, screenshots and screen recordings you have made in a single view
Start using for free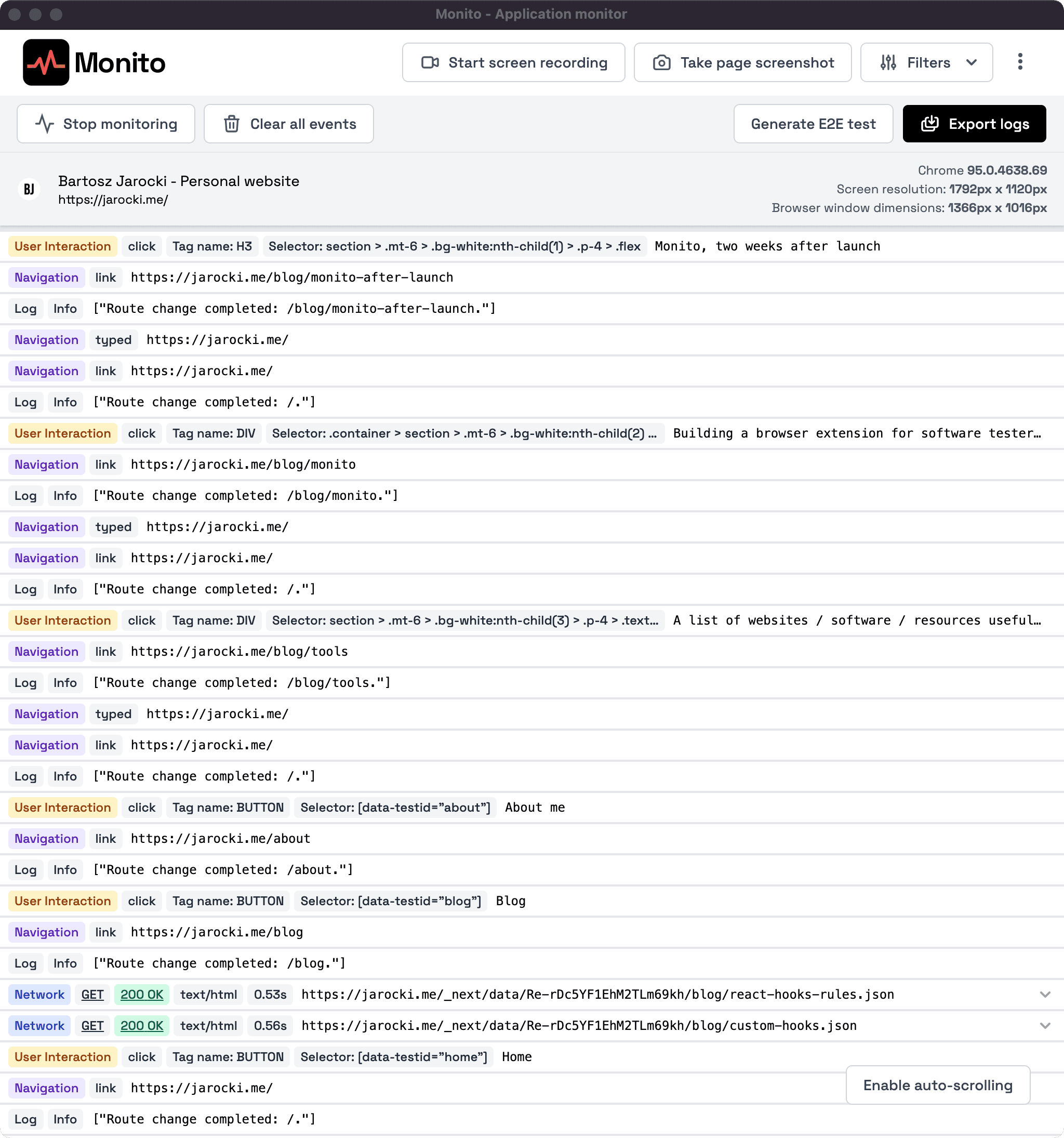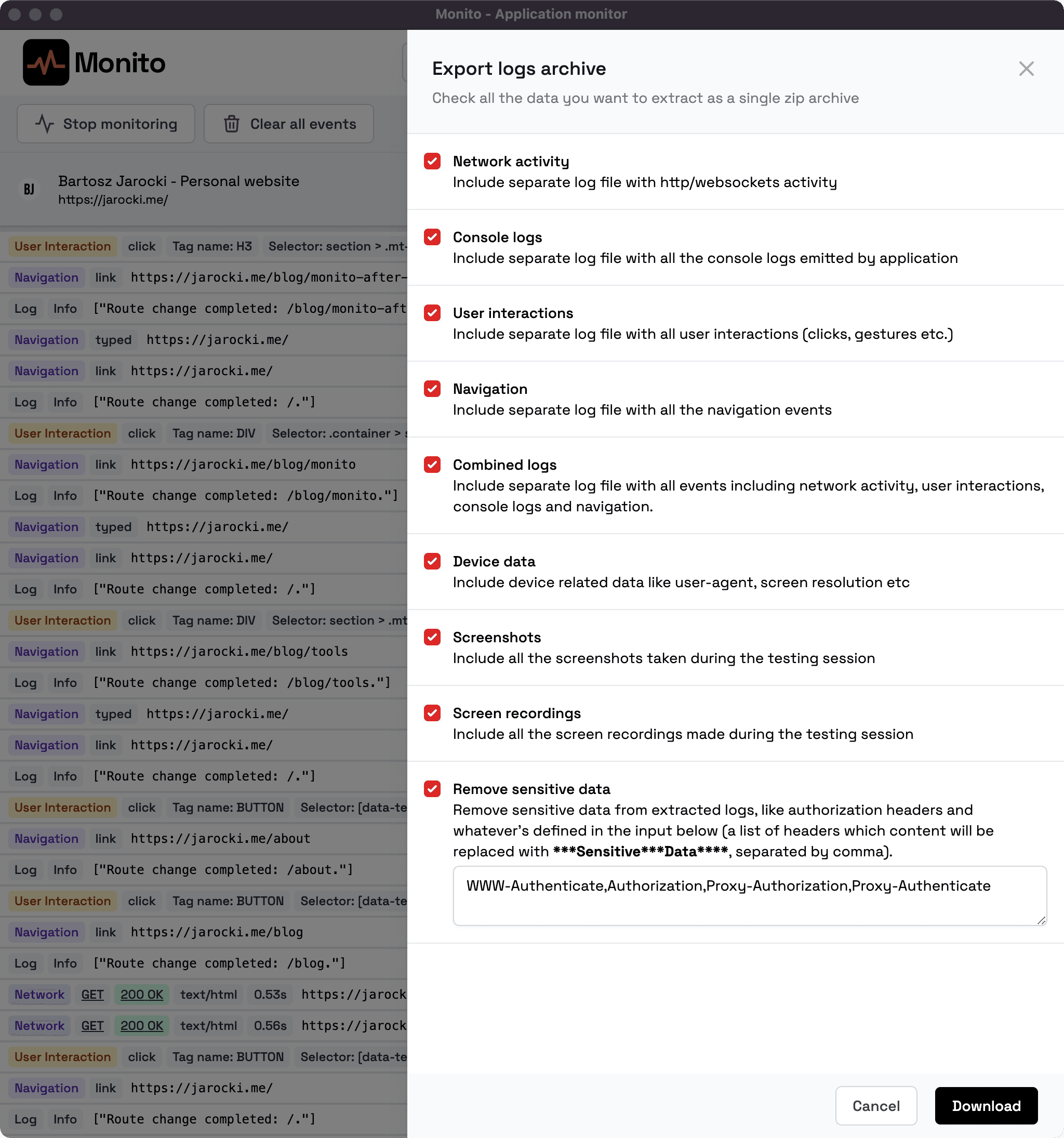 What about end-to-end testing?
Generate end-to-end tests automatically
Save hours of work by generating Cypress, Playwright and Puppeteer end-to-end tests automatically
All-in-one testing toolkit
Everything you need to create bug that reports developer love
Monito will help you to find bugs, generate accurate reports, and save time
Network activity
Logs all the network requests including HTTP and WebSocket traffic
User interactions
Registers all the user activity including clicks, double clicks, keydown, select and submit events.
Console logs
Intercepts all the console logs emitted by application
Navigation events
Registers all the navigation events that happened that during the session
Generate reports
Easily generate reports with all the recorded information in a single zip archive
Screen recording
Allows you to easily record a screen, window or selected browser tab
Screenshots
Take application screenshots anytime
End to end tests
Generate Cypress, Playwright and Puppeteer E2E tests automatically
Where can I use it?
Supported browsers
Monito works in every Chromium based browser including Chrome, Microsoft Edge, Opera, and Brave
Frequently asked questions
How can I install the extension?

The easiest way is to install it is Chrome Web Store. After installation and seven days trial, you will need to buy a license from Gumroad to continue usage.

Is there a shortcut to open the extension?

Yes. When browser with installed extension is opened, just hitCMD+Shift+Y on Mac or CTRL+Shift+Y on Windows/Linux

I have many tabs opened, which one will be monitored by Monito?

Monito will work for a tab that was active when you opened the extension. Monito records events from a single tab only. You can have multiple Monito instances opened. Each instance will be tied to the tab that was active when the extension was opened.

Does it work in Firefox?

Not yet. For now Monito only works in Chromium based browsers (Chrome, Brave, Edge etc.)
Pricing
Buy a lifetime license
Buying Monito is a one-time purchase. You'll be receiving all the updates for free. Includes Chrome Extension, Opera Extension, Edge Add-On and Brave Extension
Trial
To test Monito for 7 days for free download it from Chrome Web Store.
Requires license activation after trial period.

Personal
$29
Single person, unlimited browsers
Single user, lifetime license

Unlimited browsers

Chrome Extension

Edge Add-On

Brave Extension

Opera Extension
Enterprise
$129
Unlimited users, unlimited browsers
Organization, lifetime license

Unlimited browser and users

Priority support

Chrome Extension

Edge Add-On

Brave Extension

Opera Extension